Bangladesh is at the hub of many of the key issues facing the world. Ethical trade and development issues first drew me there in a professional capacity. I stayed a while to work for Dhaka Tribune, for whom I still write op-eds. 
Now back in London, I still resolutely believe All the goals in the world. Democracy, Equality, Human Rights, Sustainable Development, have to be delivered inside Bangladesh.  This is a steep ask, but the flip side is that if Bangladesh can solve these problems, so can the world.
Climate change, Ethical Trade, Corporate responsibility and Labour rights are just a few of the topics where it really matters exactly how these issues are dealt with and/or impact on people in Bangladesh.  If these problems can be dealt with adequately here, then they should be able to be dealt with properly anywhere…. which would be genuine cause for optimism in seeing improvements to peoples lives around the world via responsible globalisation.
Corruption and political dysfunction remain major challenges for Bangladesh (as it does for many countries) along with other wider debates with global resonance such as Secular v Religious identities, terrorism and human rights, free speech and the rights of refugees.
Fighting poverty and gender inequality and reducing rates of population growth are areas where the nation has made enough meaningful progress to earn praise from Amartya Sen  for improvements against HDI measures and Millennium Development Goals since independence in 1971.
The popularisation of microcredit is the best known export from the giants of its successful NGO sector — Grameen and BRAC (although perhaps these should be better known now for helping to popularise technological innovations in improving payments by mobile phone and facilitating the flow of remittances from diaspora communities abroad.   Arguably though the social gains arising out of industrialisation (from for example bringing millions of underemployed women workers into the formal economy)  – as the country has became one of the world's leading exporters of Ready Made Garments – are more important in the long run? (Even with its attendant sweatshops and the barriers remaining to be overcome in order to ensure safety and to provide decent working conditions and wages for all – see https://ethicalbit.wordpress.com/labour-standards/ )
Certainly, with this issue as with climate change, there are plenty of reasons for the world to watch Bangladesh – and ample reasons why Bangladeshi people who want to live, work and aspire to the future in safe, decent conditions – will be facing these challenges with fortitude and resilience.
RELATED LINKS BBIDG submission   http://niazalam.files.wordpress.com/2012/12/idg-dfid-bangladesh-paper.pdf  A 2003 report noting some of the big picture issues within a development context, which highlighted the importance of remittances.  Since 2003, far more Academics and policymakers at  DFID and the World Bank taking an interest in the topic.  And more governments in the South are seeking to leverage remittances for development purposes. 
In 2018 the World Bank's latest Migration and Development Brief shows that officially recorded remittances to developing countries touched a new record—$466 billion in 2017, up 8.5 percent over 2016. The countries that saw the highest inflow in remittances were India with $69 billion, followed by China ($64 billion), the Philippines ($33 billion), Mexico ($31 billion), Nigeria ($22 billion), and Egypt ($20 billion). Remittance flows to developing countries are expected to grow 4.1 percent to reach $485 billion in 2018.
A personal perspective on this is linked via BANGLADESH REFERENCES IN WESTERN MEDIA AND POPULAR CULTURE  (April 2013) – link to pdf (52 pages) here Bangladesh references in Western media and popular culture     or here http://www.scribd.com/doc/138460303/Bangladesh-References-in-Western-Media-and-Popular-Culture-April-2013
FREE SHAHIDUL ALAM AND PROTECT FREE SPEECH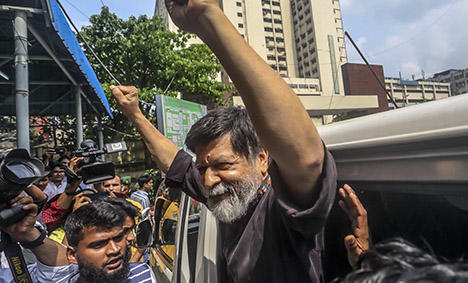 21,973 taken. Help us reach 25,000
Shahidul Alam faces 14 years behind bars in Bangladesh just for a media interview with Al Jazeera.
In the interview he criticised the Bangladesh government and condemned the treatment of student protesters.
Tell Bangladesh's Minister of Home Affairs to release Shahidul immediately, and to stop this crackdown on free speech.